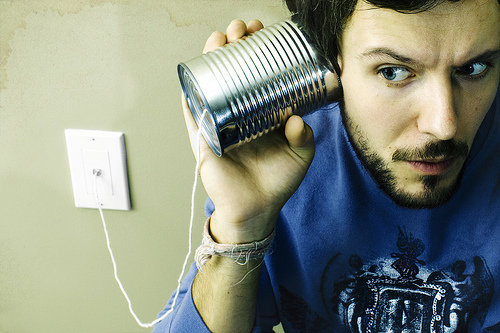 I'm about to admit a dark secret that I've kept for many years; I've used a computer mic to record phone conversations!
Before you erase me from your contacts, just know that the person being interviewed had full knowledge of what I was doing.
Now, if you've ever tried to record a phone conversation using a computer mic, you know that the sound quality can be horrible!
Thankfully, the geniuses at drop.io have provided a free and easy way to digitally record your phone conversations for free—keep on reading to see how…
Before You Begin…
The minimum requirements are:
A cellphone or regular phone with 3-way calling
A drop.io account, or drop as the cool kids call it
If you don't have a drop.io account, simply head over to the site and create a drop by typing a name in the Drop name field and clicking the big drop it button.
In the next screen, you'll have the option of adding an admin password and recovery email address—it's not necessary but recommended.
'Drop' in on a Call
Once you've logged into your drop.io account, locate your voicemail number and the five digit extension—write this number down, you'll need it.
Next, call your drop.io voicemail and 3-way or conference in your other line and begin your conversation.
The recording will stop as soon as you hang up, and your voicemail will be converted to an MP3 and stored in your drop—easy peasy wiretapeasy don't you think?
FYI: It is illegal to record a phone call without the other party's consent! Some states require only one party consent, while other states require all party's consent—do the research and stay out of trouble.
Disclaimer a.k.a. Don't Blame Me if Something Goes Wrong!
Drop.io is great, but here are some things to keep in mind:
The free account comes with 100mb of storage, which translates to approximately 400 minutes (6 hrs & 40 min) of talk time. Kiss the whole message goodbye if you go over.
There is no warning if you enter the wrong drop extension; the call will go on but your file won't be saved.
Drop.io doesn't charge for calling their 646 number (NYC), but your phone company might. Check your plan if in doubt.
By the way, lengthy conversation will take a few minutes before showing up in your drop, so don't freak out if you don't see your recording after you hang up.
Tips for Success!
If you don't want to go through the hassle of entering your drop.io voicemail number and extension every time, then add it to your address book/speed dial.
Simply perform a Google search for pause for an extension and include your phone in the search—I can already tell you that iPhone and BlackBerry users are in luck.
Another tip is to perform a trial run; give your friend a call and make sure everything works. Also, delete any unwanted files from your drop when you're done.
Last but not least, drop.io gives you a number for conference calls. In theory, you can 3-way your drop.io voicemail and conference call.
According to drop.io's support staff, a conference call can handle an unlimited amount of people but they have only tested it with 20 people so far.
In Conclusion…
I used drop.io's voicemail service to record my interview with Rich Sloan and it worked just fine.
Yet before you leave a note in the comments that Service X and Service Y works better, keep in mind that this is a free service with 400 minutes of recording time.
Of course, you can also use drop.io's voicemail service to:
record a podcast
record an interview, speech, or lecture
get rid of the My Lil' Reminder that everyone teases you about
record a conversation with your girlfriend to prove that she really exists
I'm hoping you can put this info to good use; and as always, feel free to leave a comment with any questions, ideas, or advice!
Sincerely,
The Closet Entrepreneur
» This entry was filed under Advice and tagged with: collaboration, drop.io, free, Interviews, Tutorials