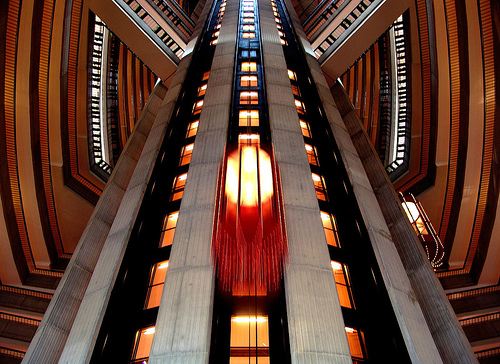 […Imagine Eminem's "Lose Yourself" playing in the background…]

Look, if you had one shot…
One opportunity to seize everything you ever wanted…
One moment…
Would you capture it…
Or just let it slip away?

Yo, his Palm Treo is sweaty, knees weak, arms are heavy…
There's Starbucks on his business coat, it's a spilled Tazoberry…
He's nervous, but on the surface he looks calm and ready…
To drop an Elevator Pitch, but he keeps on forgetting…
Alright, maybe dropping an elevator pitch isn't that extreme, yet it's an important business tool for any entrepreneur to have. According to Wikipedia,
An elevator pitch is a brief overview of an idea for a product, service, or project. The pitch is so called because it can be delivered in the time span of an elevator ride (say, thirty seconds).
When I was first asked to write an elevator pitch, the first thing that came to my mind was,
Why is an elevator pitch so important? I'm bootstrapping my business – I don't need any funding so why should I even care about an elevator pitch?
Well, I later came to find out that the process of formulating an elevator pitch brings to light many basic things that an entrepreneur must consider about their business. Even if you're not looking for funding, an elevator pitch can help you figure out what's at the core of your business.
There are numerous ways to formulate an elevator pitch; one thorough and useful method is K. Stone's How to Craft a Killer Elevator Pitch That Will Land You Big Business. Yet as I mentioned before, many methods exist so search for one that makes the most sense to you. I found the following tips to be useful when I wrote my 30 second elevator pitch:
First, avoid the cookie cutter – "insert your name here" templates that you'll find littered all over the net. You want your pitch to stand out and be unique, so give it life and personality by allowing your pitch to paint a picture or tell a story.
If possible, use a tag line yet avoid sounding cheesy – your elevator pitch isn't a sales pitch.
Stick to hard facts and numbers! Avoid assumption or BS'ing; you've got to instill integrity in your message.
Make the pitch easy to understand; avoid acronyms or any jargon that your intended audience won't comprehend.
Focus on the opportunity/problem you've encountered and why your solution is the most unique in providing value and benefit to the customer. *This part will comprise the bulk of your elevator pitch, so be sure and spend some time figuring out why your product stands head and shoulders above the competition.
If possible, mention the size of your market and who would be willing to pay for it.
If you're pitching to an investor, mention their return on investment and how much funding you're seeking.
Last but not least, make sure it's only 30 seconds long. Doing so will force you to trim the fat from the pitch and only focus on what's really at the core of your message.
Once you've created your elevator pitch, memorize it completely and try it out on your friends, family, and colleagues (try cornering them into a cubicle). When reciting your elevator pitch convey passion, confidence, and instill some of your personality into the pitch. It really makes a difference when your message has some feeling to it.
Now onto an example, here's one from Intel for employees to use,
"Intel, the world's largest silicon innovator, creates products and technologies that change the way people live, work and play. Whether it's a mobile lifestyle or a new way to enjoy entertainment at home, Intel is helping people all over the world accomplish things they never before dreamed possible."
As I mentioned before, there are hundreds upon hundreds of examples out there if you look for them. So instead of repeating them here, I will point you to one of the nicest sites for Elevator Pitch examples that I've come across on the web, Aaron Post's Your Elevator Pitch site. [Updated 04/19/2008] Unfortunately, YourElevatorPitch.com is no longer accepting or displaying pitches due to changes being considered by the site creators; I will update this blog if and when the site is functional again. For now, you can try out these resources for elevator pitch advice and examples:
If you have an elevator pitch resource that you would like to share, feel free to mention it in the comments below!
Sincerely,
The Closet Entrepreneur
» This entry was filed under Advice and tagged with: businessplan, elevatorpitch, tutorial