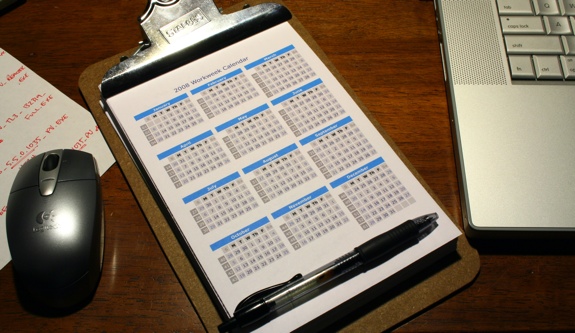 *UPDATE: The calendar has been updated for 2011 and is available for download here: 2011 Work Week Calendar.
Back by Popular Demand: Free 2010 Work Week Calendar
This work week calender is based on the badge-sized calendars that my previous employer hands out every year.
Please note that this calendar is not ISO 8601 compliant; regardless, you're more than welcome to modify and change the calendar as you see fit.
I have also included a candy bar style calendar based on David Seah's Compact Calendar.
As always this calendar is completely free to download, modify, and use.
2010 Work Week Calendar Download
For 2010, I have provided an Excel version, an iWork Numbers version, and a PDF version. These calendars have been tested on Excel 2007 and iWork '09, and should be backward compatible with earlier versions of these programs.
*Please be sure to contact me with any mistakes or issues I may need to correct.
Reader's Shared Calendars
Previous work week calendars have been translated to other languages and country specific work weeks, so feel free to send me your updated calendar and I will be more than happy to add it to this post.
Sincerely,
The Closet Entrepreneur
» This entry was filed under Excel and tagged with: calendar, Excel, free