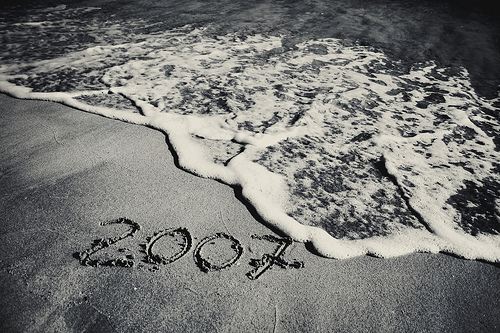 This post is already two weeks late so lets get down to business! First of all, I just wanted to thank everyone who was kind enough to subscribe to this blog in 2007! Either 1) you hit the subscribe button by accident, 2) my incessant begging broke you down, or 3) you genuinely found my posts useful. In all seriousness though, it means a lot to me and definitely keeps me wanting to share the love when it comes to entrepreneurship, productivity tips, and business advice. Second, I wanted to send out a big THANK YOU to all the individuals who left comments in 2007! A blog without comments is like a Bollywood movie without a 6-minute dance, it's just not fun. Here's wishing you all a belated Happy New Year and thank you again for all your continued support and readership!
2007 by the numbers…
It's pretty incredible to see what a link from a great blog like Dumb Little Man (58,000 subscribers) can do for your blog, that's the spike of traffic and subscribers seen on May 16. Two other notable traffic spikes occurred on March 6th when Wendy Piersall from eMoms at Home submitted my Did You Know Remix to StumbleUpon (Thanks Wendy!), and July 11th when Google started sending traffic my way for the search term farewell letter after I posted a funny email I received. One very important thing the chart doesn't tell you is how much help this blog has received from Brainfuel.tv which accounts for the second most referrals to this blog – thanks a million Chris!
And just like the government, there are various behind the scenes activities that have made this blog a bit more enjoyable like the advice from Chris Garrett's Killer Flagship Content EBook and all the articles from the great blogs I read on a continuous basis.
As the saying goes, if it ain't broke, don't break it!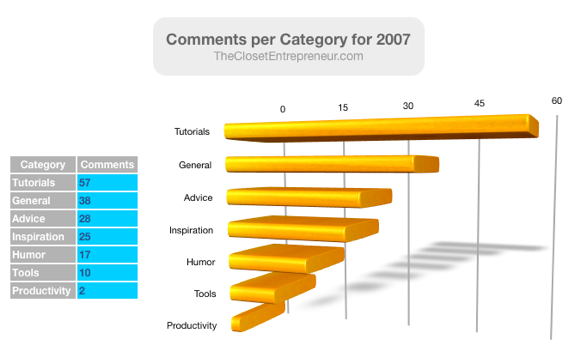 Tutorials get the most conversations going, and I'm basically looking to turn this entire blog into a tutorial for helping others become an entrepreneur while working in a 9 to 5 world. My initial intent was to just share my story but then what fun would that be?
My own entrepreneurial endeavors have been the biggest limiter thus far since it's impossible to share learnings when there are none to be had, and I'll be the first to admit that I started this blog a year too early. Thankfully, I've made enough progress thus far that 2008 will be a year of definite change, you'll see what I mean 3 months from now. 😉 Yet for now just know that I already have enough posts lined up that will surpass the 34 that were written in 2007…
Things to come in 2008…
As I alluded to above, 2008 will feature more advice/tips/diy/tutorials on entrepreneurship along with more inspirational/self-motivational paraphernalia since I've found that becoming an entrepreneur is as much about doing as it is about believing in and envisioning things getting done. I'll refrain from making any New Year's resolutions for this blog, yet my goal has always been to help out others in any way I can so now it's your turn to speak – what do you want to see in 2008 from this blog and for yourself? Just leave a comment below!
Sincerely,
The Closet Entrepreneur
» This entry was filed under General