Imagine rolling into the office every week and instead of clogging your arteries with junk from the vending machine, you're able to raid and pillage a big box of fresh, healthy, and delicious fruit. Well The FruitGuys have set out to enable office dwellers to do just that by providing offices with a weekly supply of fresh produce.
I was informed about The Fruitguys after founder Chris Mittelstaedt made a guest appearance at an ASU business course. And after contacting Chris for an impromptu phone interview, I came away very impressed by the way he has created a business that helps to keep individuals healthy, and demands mutual respect, pragmatism, and empathy from his entire staff in their day to day operations. This is one of my favorite interviews to date, so I strongly suggest that you take the time to check it out. And as always, enjoy!
Feeding a Need…
I was motivated to start another business after my wife and I "got pregnant". I had to make a decision about my future before I got locked in a position where I wouldn't be able to take risks. So a childhood friend and I started The FruitGuys in 1998 after trying to figure out what we were going to do with our lives. We had some friends who worked in offices; we talked to them and asked, "What would you need if you could think of anything to have in the office?" A couple of people stated that they would really like to have some fresh fruit because they had all this junk food laying around and they're working really long hours and would like to have something healthy. Having a sales background, I cold called a bunch of office buildings and landed 4 or 5 accounts, much to my surprise. I was able to sell them the concept and actually have them send me the money upfront so I could go out and get the business started. They were even willing to wait for 30 days for the first delivery; they were very tolerant with me.
We started the business in a grassroots/bootstrap kind of way. Our first production line was in the kitchen of my one bedroom apartment in the Little Italy section of San Francisco. And our first delivery vehicle was a Honda Civic. It was so filled with fruit that I had to follow behind on a scooter because I couldn't fit in the car with all the fruit and my friend driving.
Starting and "Growing" a Business…
The reality of business is that if you have a good idea, or even a mediocre idea, so much of success in business I believe is determined by perseverance, consistency, and execution of your idea. Even if you have an idea that 100 people already have, I think you will be successful if you're the guy who sticks through all the hard times, is savvy enough to find a way to make the idea work, and is willing to find a way to refine your business and continues to think about it anew everyday.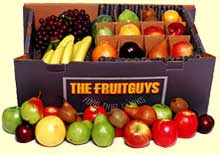 The thing that people do not realize is that you don't have to have a hotshot technology business; you can make it in any business. You just have to be willing to stick it out because there will be a lot of moments when you say: "This is not making any money", "This thing is sucking up cash for me to keep it going", "I'm not sure if it's going to succeed", It's taking time away from my family", and "It's stressing me out all the time" And there are moments, especially within the first couple of years, when you really do think seriously about throwing in the towel and walking away from it. And there are a lot of entrepreneurs that say "Hey, it would be easier to have a job than to run a company" and that is true, very true. But once you get over those humps and you can get to a point where the company starts to take off, then you actually start to feel the benefits and rewards of having the control and creativity over the direction of your business. And you do get rewarded personally for these kinds of things.
Beta Testing a Small Business…
I'm a huge believer in beta testing. You almost have to just get your feet wet in low cost businesses. I think a lot of people get stuck in analysis, when the reality is it should almost be the opposite – you should go out there and test your idea and then you can go back and figure out "What did I learn from this test?" Design a model that doesn't cost a lot to test, and that will give you the most information as quickly as possible so you can determine whether you want to try your idea or not.
When you have a big idea that's going to cost a lot of money, you have to have the documentation, the analysis, and the planning before you start it. When you have an idea that doesn't require a lot of capital, you can afford to test it. And it's almost worth testing just to try and build a customer base. Talk to 10 potential customers and ask "Will you become a customer, because if you do, I'll start this business."
Making a Difference One Non-Profit at a Time…
We're funding the growth of a micro business to distribute fresh produce door to door to people who aren't getting fresh food, and for a very low cost. We're giving the fruit to Somethin' Fresh to help them get off the ground; ultimately the goal is to have them distribute the fruit at cost, if not just a little bit above cost, and make a non-profit that can serve the community as a whole. So I'm interested in developing not just my business model, but also parallel ones that go along with our success. I'm constantly looking for people that are interested, and one of my goals is to meet talented people out there who have the same kind of interests about these things as I do. You never know when these networks of people can come together to expand these "good deed" models. The more that I can get out there and spread our message, the more I get to meet other people that will be interested too.
The Secret to Success – The Five R's
In 1999, I had an experience where we had a customer call us and say, "I'm never working with you guys again! Your delivery driver came in and was rude and gave me the finger and walked out! It was the most embarrassing thing I have ever experienced!' I apologized to the woman and we ended up saving the account. I talked to the driver upon his return and asked "What happened here?" and he explained that he was about 10 minutes late and the woman was frantic. She was in the middle of trying to prepare a board meeting and she yelled at him. So, he dropped the fruit box on the table and threw up his arms (and he claims that he didn't flip her off) and left. And I asked "Why would you do that?" He said if there's one lesson he learned in his life, it was that his father taught him many years ago if someone disrespects you, you disrespect them right back.
And I realized at that moment that I have people who are my employees who are not going to have the same feelings about customer service that I naturally have, and I had to find a way to communicate what my standard of customer service was for all my employees. So over the next year I thought about this as it was eating me inside, and over the course of a week after thinking about it for a year, I came up with a concept called the five R's of customer service. It actually turned into the underpinning philosophy that drives The FruitGuys.
The five R's are five questions that we ask ourselves all the time in order to judge whether we're doing a good job for our customers, having positive vendor relationships, and dealing with our peers and those around us.
The Five R's of Customer Service…
➡ Respect: Have you been respectful to whomever you're dealing with whether it's a customer, peer, or a vendor? And we define respect not as a respect for a superior, but a respect for someone because they walk this planet with you. And you give them respect equally as you would anybody else.
➡ Respond: Have you been responsive to the needs of your customer or the person you're dealing with? Many people say "You didn't react fast enough" and I actually don't agree with that philosophy, I think it's more that you're not responding fast enough. Reacting is a very emotional and gut based thing, when you react you're not thinking. Responding to somebody involves thinking about what you're doing so you can help them. Responding implies that you're listening to what they want and what they're saying, and you're trying to find a solution for them.
➡ Realistic: Have you been realistic about what you can or cannot do? That is a really important part of our business, if somebody comes to us with an unrealistic goal that they need fulfilled, then we need to immediately tell them that we can't do it and why – and give them options for what we can do. Yet if it's over our heads, we need to admit it because we don't want to lead someone down a path where they'll be disappointed or angry at us and we ruin our own reputation through over-promising.
➡ Responsibility: Did we take personal responsibility for the outcome of the situation we promised to shepherd? It's easy for one person to take responsibility, but it's difficult in an organization where each person has a job to do and different people are shepherding that project. Everybody has to go into it with the philosophy that this is my project and I own it collectively with everybody else, but I'm going to make it a personal responsibility that this thing succeeds. If everybody takes that philosophy, then you're going to get overlap and you're going to make sure that things get done correctly.
➡ Remembered: When you walk away from a situation with a customer, vendor, peer, or anyone in your organization, are you going to be remembered positively? And if you have done all of the other four R's, I think you are going to be remembered positively.
These five steps have become the ethical philosophy of The FruitGuys that we use to create our own management system. And we also use it with our employees, our customers, and our vendors. If a vendor doesn't live up to our standards, then we realize that regardless of their product, they may not be a type of company that we want to associate with ourselves. And we explain to everyone – vendors, customers and peers how we use the 5R's. I've never understood customer service that is based on ultimatums or is impolite, it's not the way I want to be in business. I want to have a business that's very respectful to others. It may sound cliché but I think that all things circle back. If we treat others well I believe we will receive the same in return. And that's what we are trying to do here.
–Chris Mittelstaedt
Founder of The FruitGuys
For a box of fresh fruit from The FruitGuys for your office, just go to www.fruitguys.com, email us, or call us. –Chris Mittelstaedt
» This entry was filed under Case Studies and tagged with: Advice, fruitguys, Interviews, startup