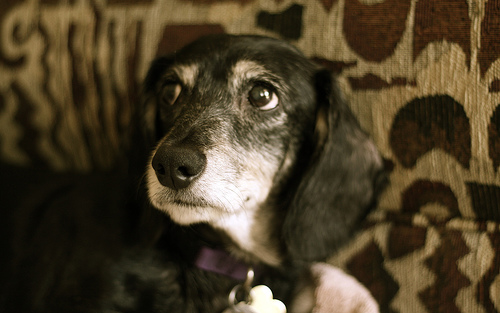 Although I've written about my hometown of San Manuel and my home security fail in in the past, I don't usually make it a habit to share uber personal stories on this blog. Of course, there's always an exception to the rule.
Meet Rollie

[Email and feed subscribers, please visit the blog if the video fails to show]
Rollie was adopted on June 23rd, 2006. He was part Dachshund and part mangy mutt—actually he was supposedly part Cocker Spaniel but we're skeptical about that. We're also skeptical of his age which is supposed to be 11 (human) years old; but since he was adopted, there's no way of knowing whether the vet's estimate was correct.
Rollie Has Left the Building
Life has been extremely busy as of late with business and personal stuff—which explains the silence on the blog—but never in a million years would I have expected to be dealing with a deathly ill puppy.
On Wednesday evening we noticed that Rollie's appetite was gone and and he was drooling—Rollie was a big fan of being lazy, napping, eating, pooping, licking, and scratching but he was much too civilized for drooling so we knew something was wrong.
On Thursday he went to the vet and was diagnosed with stomach problems. On Friday, he went to the vet again after he started having bouts of diarrhea and his urine was found to be red-orange in color. That same day, he was rushed to the Animal Hospital after his blood count was found to be at a critical level. On Saturday he recovered slightly, but was experiencing neurological issues and couldn't find his balance. On Sunday just before Noon, his heart stopped and any attempts at resuscitation were stopped shortly thereafter.
We still don't know what caused him to get so sick and decline so quickly; we had him checked regularly and he was always found to be in tip-top health for his age. We're still waiting on lab results which were slowed due to the holiday weekend, but even that tidbit of information doesn't sound too comforting at the moment.
We knew that he was getting old and that one day he would leave us, but seeing him slip from us so quickly has caught us completely off guard. I know that grieving is part of the process of losing a pet, but I never expected it to be this hard. I know it sounds cliche, but I still wait for him to come trotting out from his favorite napping spot and plop down next to me wherever I may be sitting.
In Closing…
I just want to say thank you if you've read this far. I wrote this blog post as a tribute to Rollie, and I just wanted him to know how special and important he was to me and all those who met him.
For those of you who have lost a pet, I'm so sorry for your loss. And for those of you who are thinking of owning a pet…
Do your homework and become informed.
Be sure you're ready to take care of a pet; there's plenty of sacrifice and work involved.
Please consider adopting a pet from a rescue agency—many of these innocent animals were abandoned due to no fault of their own.
Sincerely,
The Closet Entrepreneur
» This entry was filed under General