Update: I've reopened the comments section for readers to leave their thoughts. FYI, users will have their comments moderated for any strong or inappropriate language.
My morning commute is usually pretty uneventful, it's a short 15 minute drive in which I usually spend most of my time wrestling with the sunshade in a futile attempt to block out the early morning sun. This last Wednesday's commute was markedly different. As I listened to NPR I heard a name called out during the broadcast that only lived on in childhood memories, that name was "Magma Copper Company". The broadcaster went on to say that the huge, 500ft twin smelter stacks that acted as an iconic beacon for both the copper company and the town of San Manuel were to be demolished at 1:00PM that same day, January 17th 2007. Immediately I called my family in Tucson and told them about the news, of which they were already aware of. I went about the rest of my day as usual, not really thinking much about what was to take place in San Manuel later that day.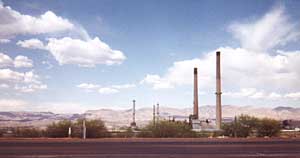 You see, San Manuel was the place where I grew up and Magma Copper Company was at the very center of it's economic heart and soul. The rich copper veins of the mine provided the residents of San Manuel, and neighboring residents of Oracle and Mammoth with more than enough to enjoy a nice and comfortable living. It was one of the few remaining places where generations of Baby Boomers and their children could make more than $20 an hour with just a High School education, and this was back in the early 1990's just to put it into perspective. Truth be told, that fact alone gave many graduating High School seniors the incentive to not think twice about furthering their education and remain in San Manuel to settle down and work. Unfortunately, that all changed in the years to come.
In 1996, BHP Billiton purchased Magma Copper Company for $2.4 Billion. In 1999, BHP pulled the plug on the San Manuel copper facility based on the continually falling price of copper. What was once one of the largest underground copper mines in the world ceased to exist and in the blink of an eye, an entire community lost it's identity and lifeblood. It was hard on my parents to just pick up and leave. My father had worked as a locomotive mechanic for more than 15 years, and now there was no other option than to train in another field and find job opportunities elsewhere. Luckily, my parents had provided my Sister and I with the financial means of getting a college education, yet it was sad to think about all the families that were left with nothing but a final paycheck and a thank you.
I think I avoided learning more about the demolition because I just wasn't ready to see the smokestacks go. I left San Manuel in 1994 to attend Arizona State, and although I've lived in Phoenix for more than 10 years now, San Manuel is the only home I've ever known. My family and I owe so much to that copper company and that small town, and I guess the demolition is one final act of closure that's been missing ever since the copper mine was shutdown.
As a small tribute, I've attached 2 videos (RSS feed readers – please visit the site to see the videos). The first shows the demolition of the twin stacks; you can actually hear one of the onlookers weeping after the stacks fell. The second video gives a mini-documentary of the copper company and the Dell E. Webb designed town that was built exclusively for it. You can also read more about the financial decisions that ultimately sealed the copper company's fate here: Town's last copper relics to pass into history.
Sincerely,
The Closet Entrepreneur
» This entry was filed under General