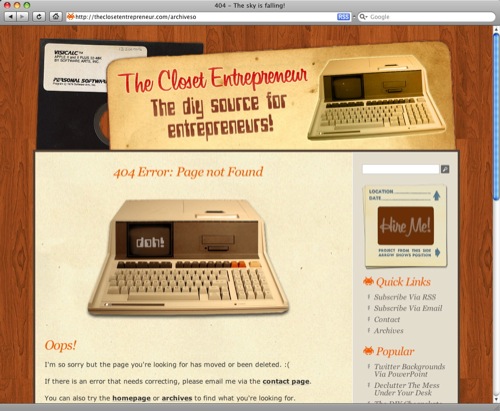 I promised myself after the last theme redesign that I would hire a designer to make future changes to the look of this blog. Yet what initially turned out to be an attempt at a crude mockup turned out to be a week long obsession to make the blog look like something out of the Eighties. All I can say is that I feel like I just gave birth to an Atari playing web designer. By the way, please visit the blog to see all the changes if you happen to be reading this via feed or email.
Info on the redesign…
As you can see by the shameless self-promoting "hire me" links in the sidebar, and at the end of this post, I've decided to do some freelancing on the side and wanted the blog to reflect this new direction. Also as I alluded to before, I'm a child of the Eighties and wanted the site to have an Eighties retro feel to it.
Your feedback is appreciated!
Anyway, I would love to know what you think of the redesign? To be more specific,
Does the "hire me" signage make you rethink whether or not the advice on this blog is genuine, or take away from the enjoyability of this blog? By the way, none of the signage shows up in your feed reader or email, it can only be seen by visiting the blog.
Is there enough contrast between the text and background colors to allow for easy reading?
Is there anything that can be done to the layout to make the blog easier to use?
Of course, I welcome any additional constructive criticism and feedback you may have so feel free to leave your thoughts in the comments or via email!
More than meets the eye…
I'm not a web designer so none of this would've been possible without the help of the following resources…
In Conclusion…
I hope you like the new look and feel of the blog and it's only a matter of time before I get back to regular blog updates! As always, your comments and feedback are appreciated!
Sincerely,
The Closet Entrepreneur
» This entry was filed under General