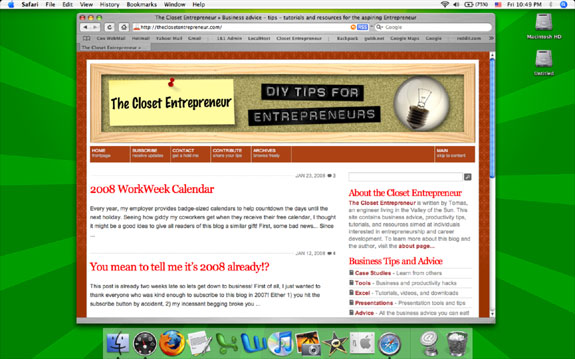 I'm trying to be more organized and clutter free this year, so I decided to clean up this blog with a shiny new theme. If you can't remember what the previous theme looked like, you can view it here.
Without going into great detail, I eliminated all the extra sidebar links and am showing post snippets on the homepage for easy browsing. Ultimately, I want readers to find what they need as quickly as possible, then get on with their lives. By the way, the sidebar is a bit light on useful links at the moment but will be updated soon.
So now it's your turn, what can I do to make your visit better?
Inspiration
I wanted a retro feel – imagine Napoleon Dynamite's home office – so I chose cork board, tacky wallpaper, and some old school Dymo embossing labels. If there is a way to incorporate a 5.25″ floppy, I will. By the way, the light bulb is supposed to be a button, like the kind you wear on your shirt… then pin up on a cork board… yep.
Of course, I couldn't have done any of this on my own so here are all the individuals, resources, and tools that made this theme possible:
So what do you think?
Sincerely,
The Closet Entrepreneur
» This entry was filed under General and tagged with: Wordpress