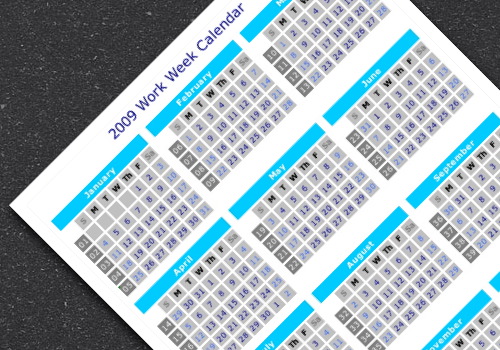 *UPDATE: The calendar has been updated for 2010 and is available for download here: 2010 Work Week Calendar.
Several individuals found the 2008 Work Week Calendar useful, so I'm being proactive and posting the 2009 Work Week Calendar a few weeks early. As I mentioned before, this work week calender is based on the badge-sized calendars that my previous employer used to hand out.
Please note that January 1st marks the first work week of this calendar, which isn't ISO 8601 compliant. The only difference in this case is that the last week of December is shown as work week 1 of 2010 instead of work week 53 of 2009. Regardless, you're more than welcome to change the last week as you see fit.
I have also included a candy bar style calendar based on David Seah's Compact Calendar, and as always this calendar is completely free to download and use.
2009 Work Week Calendar Download
For 2009, I'm providing an Excel version, an iWork Numbers version, and a PDF version so hopefully no one gets left out.
Feel free to modify the calendar any way you like, and be sure to relay any mistakes or corrections I may have missed.
Reader's Shared Calendars
Sincerely,
The Closet Entrepreneur
» This entry was filed under Excel and tagged with: calendar, Excel, free