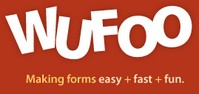 I came across Wufoo while searching for a way to create an online survey and was very impressed by the experience.
The site is pretty easy to use for first time form builders, and the free plan gives you three forms, 10 fields per form, three reports, and a maximum of 100 entries per month totaled across all forms. Here's a random form I created to use as an example (feel free to fill it out if you like):
I like how users are able to personalize their forms by creating custom themes with their theme builder. You can also integrate the form into your own site via their code manager, and the XHTML and CSS code is available in case you're looking for an example of how to build a form from scratch. Although I'm not versed in web development, I thought I should mention that the Wufoo team has made their API available for advanced developers to use. And last but not least, you can stay up to date with form results by using an RSS feed or choosing the option of receiving an email every time a form has been filled out and submitted.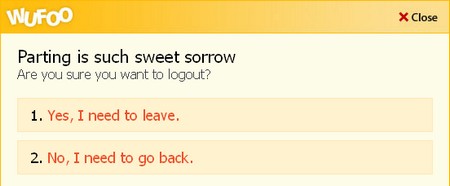 The one thing that really strikes me about Wufoo is the personality that creators Chris Campbell, Kevin Hale and Ryan Campbell have bestowed upon it. The overall execution of the site is also worth noting (look at me, acting like I'm some kind of graphic designer – I'm colorblind for gosh sakes!). An example of the "personality" I'm talking about can be found on the log off screen, where you're greeted with "Parting is such sweet sorrow. Are you sure you want to logout?". I think it's much better than the obligatory "Thanks for using blahblah.com, goodbye." I'll admit that I definitely smiled and laughed plenty of times while browsing around and creating forms, which really added to the entire user experience.
In terms of design and usability, the site is pretty intuitive with plenty of Flash and javascript throughout.
My Verdict: I would definitely recommend trying out Wufoo if you're ever in need of an online survey, quiz, contact form, et cetera (the FAQ page lists several other uses for the site). You can learn more about the site at Wufoo.com or by visiting their blog.
Sincerely,
The Closet Entrepreneur
Post Scriptum: For those of you that are curious, the name Wufoo comes from a combination of Wu-Tang and Foo Fighters, two favorites of Kevin Hale.
» This entry was filed under Tools and tagged with: bootstrapping, forms, polls, wufoo