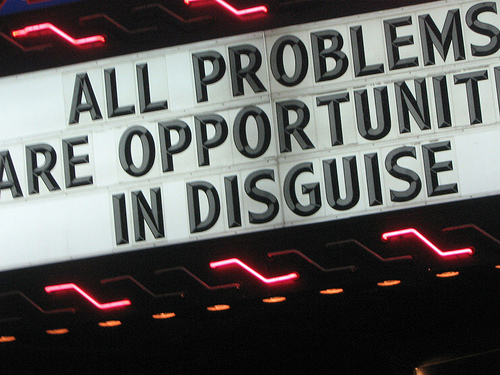 Identical twins Amal and Juan graduate with Bachelors degrees and receive the same job offer. Amal passes up the job offer to pursue a Masters degree while Juan takes the job offer and begins working. Two years pass and Amal graduates and begins working. By this time Juan has been promoted to a position that is comparable to Amal's starting position, and Juan's salary has increased to an amount that is comparable to Amal's starting salary. So who made the better decision, Amal or Juan?
Opportunity Cost 101…
In business and in life, every choice we make comes at a cost since we forgo other possible alternatives in the process; this cost — whether it's money, time, education, health, et cetera — is known as an opportunity cost. More specifically,
An opportunity cost is the value or benefit of the next best alternative.
In the example above, one could argue that Amal made the better decision since a Masters degree would be valuable if both lost their jobs and found themselves in a competitive job market. Yet when you look at the situation in terms of opportunity costs, Amal's Masters degree came at a cost of two years salary. If Amal and Juan stay on equal career paths from here on out, Juan ends up making the better decision.
Opportunity Cost in the real world…
While the example of Amal and Juan is situational, opportunity costs definitely apply in the real world. Opportunity costs especially come into play when time is of the essence like starting a business, fixing and flipping an investment property, selling your home, et cetera.
In some cases, saving money by doing things yourself can be beneficial. Yet the benefit of saving money has to be weighed against the benefit of getting things done quickly and correctly by a professional. For example, anyone can learn how to build a website or remodel an investment property on their own, yet if doing so comes at a cost of several months of lost revenue or rent, then is it really worth it?
Opportunity costs even come into play in the pursuit of happiness. Take for example the classic situation where a parent wants a child to become a lawyer or doctor. If that child has a strong passion for something other than law or medicine, then giving in to their parents' wishes may come at an opportunity cost of their happiness. Which would you rather choose, lifelong happiness or a life of misery living out someone else's dream?
In conclusion…
Opportunity costs are all around us and they differ from individual to individual. Take one look at Steve Jobs and Bill Gates and think of the opportunity costs if they had decided to forgo their entrepreneurial pursuits and continue their college education instead. Had they not been blessed with business acumen, things would be very different now. Ultimately, opportunity costs apply to anything which is of value to a person and being conscious of how they apply to your situation can help in making a satisfactory choice/decision by considering the value or benefit of the next best alternative.
Sincerely,
The Closet Entrepreneur
» This entry was filed under Advice and tagged with: Advice, opportunitycost, startup