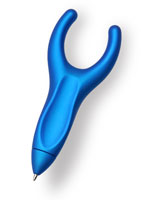 Imagine that you've been sitting on an idea for 15 years, an idea you dreamed up while doing time in high school detention. You and your college bud decide to act on it and try to make the idea a reality. You spend four years toiling through trade shows and making the most of every opportunity to get your new product into shops and people's hands.
Finally, all the hard work pays off! Wal-Mart, Walgreens, and Office Depot are hungry for your product and order up half a million units! All of a sudden, you're on your way to the top! You find yourself on the set of Desperate Housewives and schmoozing with George Lopez, Wilmer Valderrama, and the lady with the high pitched voice from Police Academy. Life is good, right?
Well, there's a slight problem…
You and your 5-person business only have $300K on hand, and it takes money to make money. Your factory in China wants 30% up front for big orders, and each retailer is asking for $100K just to reserve a spot on their shelves for your product. So, what would YOU do?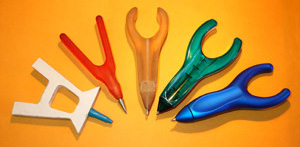 This is the story of Colin Roche, Bobby Ronsse, and PenAgain. PenAgain is the idea of Colin Roche, who in 1987 dreamed up of a new pen design while doing time in high school detention. He teamed up with his fraternity brother, Bobby Ronsse in 2001 and the two created Pacific Writing Instruments with the purpose of making PenAgain a reality. For several years, they rolled up their sleeves and got their hands dirty in an attempt to make a name for the pen. And make a name they did. By the time Wal-Mart gave them a shot, they had already made $2 million in revenue and the PenAgain was being sold around the globe.
But the journey hasn't been all fun and games. Initially, PenAgain lacked mass appeal with major retailers. And even after proving that the wishbone shaped pen had a following, the small company has been physically, mentally, and financially taxed by the demands of running a small business and catering to the needs of the big retailers. Getting the product out the door is a full-time job for the five-person staff, and the money the company has on hand isn't enough for traditional advertising or expanding the size of the company. VC's aren't willing to invest less than $3 million, and the right Angel investors are yet to be found. So if you had any advice for Colin Roche and Bobby Ronsse, what would you tell them?
Personally, I think it's a hard spot to be in especially because it is so difficult for them to grow the company and run the company at the same time. Yet they have an established brand name and a product that sells, and sells well. Plus, ergonomic products are a big thing nowadays with companies and individuals with special needs. So if I were Colin and Bobby, I would actually not grow their company into a huge corporation. Instead, I would license out the technology to other pen manufacturers and companies like Wacom and Logitech.
Why? Well, I went out and bought the Ergo-Sof PenAgain. And although I like the design, it still needs some R&D. For starters, the solid body still has the capacity of creating pressure points between the index and middle fingers where one of the ends of the wishbones rest. An actual semi-solid "NERF-like" body would be awesome. Second, the quality of the ink and ink delivery aren't up to par with other pens. I would rather use liquid gel instead of traditional ball-point inks. And finally, the body of the pen takes some getting used to. The pen itself is already compact, but is just a quarter of an inch too long and half an inch too thick.
A major manufacturer might be able to tweak the pen more easily to make it perfect for "everyone" to use. And licensing the technology would allow the creators to still profit from their idea, yet probably get the idea out to more markets than they themselves could imagine. That's my 2 cents, take it for what it is worth. 🙂
So would I recommend the pen? Yes. Despite my constructive criticism, I believe it warrants a try, especially for people who have trouble with traditional pen designs and need an alternative.
Now lets hear from you. If you were given the task of advising the PenAgain guys, what would you suggest they do? Leave a comment with your advice; maybe you'll have the answer to the PenAgain conundrum!
Sincerely,
The Closet Entrepreneur
» This entry was filed under Case Studies and tagged with: casestudy, penagain, startup