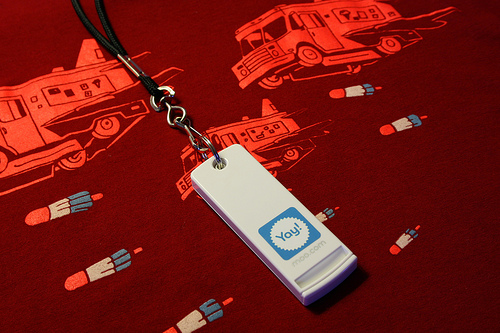 If you have ever struggled to swap business cards without coming across as a complete networking n00b, then this hack is for you!
I accidentally stumbled upon this hack at a conference; my pockets were full so I clipped my MOO MiniCard Holder to my lanyard.
Someone spotted the holder and asked what it was, so I flipped it open to reveal the MOO MiniCards inside; they got a kick out of it and asked if they could take a card—pretty slick don't you think?
Why it Works…
The MOO MiniCards networking hack is pretty simple yet effective for two reasons:
First, the holder is discreet yet unique enough to make someone take notice and hopefully wonder what it is.
Second, the MOO MiniCards themselves are extremely unique; I have yet to see someone react negatively or indifferent towards them.
Obviously, not everyone asks about the holder, yet people still find amusement in seeing you reveal the unique cards that hide inside.
Also, there's no substitute for old-fashioned networking and mingling—MOO MiniCards will help you make an impression but they won't do all the work for you.
Designing Your Own…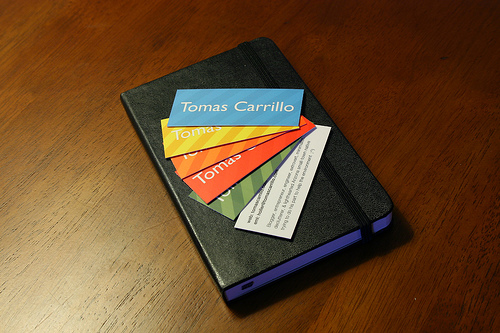 Thankfully, MOO provides a myriad of ways to design your own MOO MiniCards; currently you can upload a custom design, you can select from a set of ready made designs, or you can import photos from Flickr and a slew of other social networking sites.
Personally, I went with a simple retro look based on Fruit Stripe gum; although I've seen some really neat designs like Jeff Moriarty's MOO MiniCards.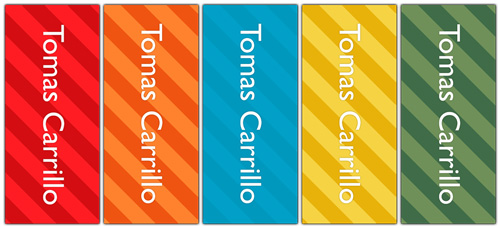 The striped design was created in Adobe Illustrator, although you could easily do something like this using any image editing software like Photoshop—you could even try using PowerPoint or Keynote if your resources are limited.
Design Tips
If you're a DIY kind of person, then here are some important things to note:
MOO provides a PhotoShop (PSD) MiniCard Template for you to use. When I first created my MOO MiniCards, I created them as jpegs that were about 10 times larger than the template dimensions to make my edges sharper. Since then, MOO now has the option to upload a PDF of your artwork and that's what I've been using (that's also what MOO recommends).
Design Resources
It wouldn't be The Closet Entrepreneur blog if I didn't have some freebies to give, so here you go:
NOTE: The retro Fruit Stripe style template is being provided free under a Creative Commons Attribution-Noncommercial-Share Alike 3.0 License. Basically what that means is:
You're free to copy, distribute, and remix the template.
If you do alter, transform, or build upon the template, then please distribute the resulting work under the same or similar Creative Commons license.
You may not use the template for commercial purposes.
Lastly, give me some props by attributing the template to 'The Closet Entrepreneur' and provide a link back to this blog post on your blog/site.
Design Ideas
There are hundreds of business card galleries out there, but here are some of the latest ones I've come across:
In Conclusion…
I'm a huge MOO MiniCard fan, although I wish MOO would let us create MiniCards using their 100% post-consumer chlorine-free recycled paper. Regardless, the MiniCards are printed on elemental chlorine free (ECF) paper sourced from sustainable forests so I'll remain patient for now.
So have you had any success with a unique business card design, or do you have any networking hacks that you've employed successfully? If so, then feel free to share your thoughts in the comments!
Sincerely,
The Closet Entrepreneur
» This entry was filed under Advice and tagged with: branding, businesscards, networking, Tutorials