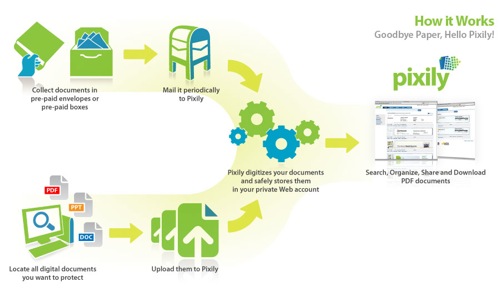 Pixily's name has now changed to OfficeDrop
Digital documents are an entrepreneur's best friend; they're easier to store, organize, backup, share, search, access, and transport in comparison to physical paper. On the other hand, scanning the contents of your filing cabinets into digital form is akin to watching wet paint dry on a rainy day. Enter OfficeDrop, a new startup that hopes to ease the process of getting your paper and documents digitized and online.
My Experience With Pixily
Since Pixily was in private-beta, I decided to try them out and make use of the free document digitizing service. By the way, Pixily has since gone live and was just recently featured in the Boston Globe's tech section and on ReadWriteWeb.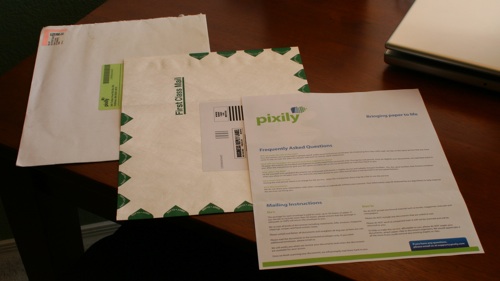 After signing up, I received a pair of pre-paid First-Class DuPont Tyvek flat envelopes which according to DuPont are tear-resistant and waterproof. Admittedly, I was nervous about sending important documents and receipts via mail for fear of something happening to them en-route to OfficeDrop's processing facilities; yet to be fair I've sent important documents via First-Class mail in the past without issue. OfficeDrop's CEO Prasad Thammineni did tell me that they're looking into creative ways to add tracking, yet the option of tracking via USPS would result in trips to the post office for customers. If you want a sense of how long the process takes, my documents were mailed on July 17th and arrived at OfficeDrop's Waltham, MA scanning center on July 21st; I received an email on July 23rd notifying me that all pages were scanned, uploaded, and had been mailed back to me.
The scan quality is actually pretty good, and documents are grouped into single PDFs where applicable. There was an instance where unrelated pages were grouped into a single PDF while other related pages were not, and OfficeDrop is currently working on several solutions that will allow customers to specify page grouping and document tagging prior to mailing documents in. Also being considered is a Flickr like interface that will allow users to organize pages within documents, rotate pages, and delete any unwanted pages. Optical character recognition (OCR) is also added to each PDF which makes searching through documents possible. Their current search engine does not allow for partial searches, wildcard operators, or handwriting recognition; yet these features are part of their search plans and will be rolling out in the coming months.
If you wish to download your digitized documents, you have the option of either downloading a single document or downloading 10 PDFs at a time. I was hoping that a bulk download option was available where you could download your entire account, but I could see how bandwidth intensive that could become considering that each PDF is several megabytes each. Also, no option exists to have all your documents burned to a CD and sent to you, but you can easily do that yourself. In addition, you are also given the option to upload your own PDF documents to your OfficeDrop account and support for Microsoft Office and image formats is currently in the works. You also have the option of organizing your documents online via tags and sharing your documents via a private URL which can be set to expire if needed.
Security And Confidentiality
In regards to security and confidentiality, OfficeDrop states that all employees undergo extensive background checks and interviews prior to being hired. They also track employee handling of envelopes and scanning throughout their entire processing system. In addition, recording instruments are not allowed in the scanning facility and additional security checks by independent security consultants and fraud experts are being considered.
As far as online security goes, OfficeDrop encrypts your files before storing them on Amazon's Web Services, which by the way is also used by Amazon's own developers for business-critical operations. They also utilize automated network security audits via McAfee Secure.
Items Of Interest
OfficeDrop's plans are monthly subscriptions that range from a free account with 200 pages of online storage (sans mail-in envelopes) to a 'Select' account with 12,000 pages of online storage and four mail-in envelopes per month.
A pay-per-use option is available by choosing the digital-only plan which runs $4.95 per month plus $14.95 per mail-in envelope, although it would be nice to have an easier option which didn't involve signing up for a monthly plan.
You can mail up to 50 sheets per envelope at no additional charge; additional sheets are charged 12¢ per sheet (the envelope itself will fit about 75 sheets).
As mentioned before, support for Microsoft Office and image uploads is in the works but not yet available. Also, secure PDFs are currently not supported yet it's on their list of future releases.
In Conclusion
OfficeDrop was actually born out of personal need as OfficeDrop's CEO Prasad actually spent two weeks scanning over 8000 pages worth of MBA course notes after realizing that digital copies would be easier to store, distribute, transport, and search through. Personally, I think it's a great business idea and the service is ideal for individuals hoping to declutter their offices or kick the paper habit completely. Aside from the constructive feedback I offered above, I was actually pleased with my OfficeDrop experience, both with the service and the communication I received from OfficeDrop's CEO. By the way, OfficeDrop is offering a 30-day risk-free trial just in case you want to try the service out for yourself.
So, have you or would you use OfficeDrop to go paperless? Feel free to leave your ideas and comments below!
Sincerely,
The Closet Entrepreneur
Post Scriptum: Twitter users can follow @officedrop and @prasadt for the latest company news.
» This entry was filed under Tools and tagged with: business, declutter, documents, office, organizing, storage