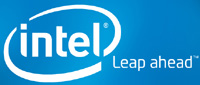 Inside sources (aka Google search) revealed that the new Intel logo was created from a font known as Neo Sans Intel. The font is a modified version of Sebastian Lester's Neo Sans font.
A co-worker noted that Neo Sans Intel literally stands for "New Without Intel", which may not resonate well with the new image that Intel is trying to adopt and convey to consumers. So I became curious as to why Intel would knowingly do such a thing. I first consulted a secret resource (aka my Little Sister – the Graphic Design major). According to my Little Sister, I mean my secret resource, Sans in the graphic design world is short for Sans Serif which means without serifs. From my understanding, Serifs are the little extra fancy things that appear at the corners of certain text and letters. An everyday example of a Serif font in use is the Google logo.


And a perfect example of a Sans Serif font in use is Superman's Tornado Design logo.

After discovering this, I soon realized that the term Neo Sans Intel (like some Biblical and Spanish phrases) cannot be literally translated. Thus, Neo Sans Intel will make sense to a graphic designer, but will not make sense to someone who literally translates it unless they understand the theory behind it – which hopefully we all do now. 🙂
Side Note: Re-Branding in the Corporate World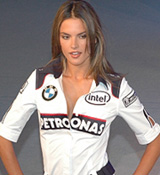 Since we're on the subject, I thought I would delve into Intel's re-branding which was made public at the beginning of 2006 (actually, a French website leaked the new logo sometime last year). So why did Intel mess with the world's #5 most recognized brand, here's my theory. Paul Otellini takes the reigns from Craig Barrett and leads the World's #1 chip maker. He feels the company has lost its spark and sets out to make a good thing even better. So how do you make a good thing better? Well you hire someone who is known for making good things better, and that someone is Eric Kim, the new Chief Marketing Officer who was hailed as Samsung's Miracle Worker. The acquisition of Eric Kim from Samsung is very intriguing because it is extremely rare for someone to be hired into such a prominent position by Intel. You usually have to put in some time and energy to reach Senior VP AND General Manager of Sales and Marketing AND Chief Marketing Officer. Now here's the interesting part, Samsung announced its intent to enter the CPU business and has since set its sights on overtaking Intel as the World's #1 chip maker. So Eric Kim's hiring was probably a preemptive strike on Intel's part. Regardless, it's obvious that Kim is making waves with his corporate overhaul (just as he did at Samsung) by sprucing up Intel's image and trying to turn Intel into a platform company responsible for much more than just CPU's. He has already busted out the new logo, teamed up with BMW and the BMW Sauber F1 Team, and even managed to get the Intel logo on Alessandra Ambrosio. Add an employee call to arms with the new 'Leap ahead' tagline and you get the feeling that Intel is trying to refocus much like Nissan did with its Shift_ philosophy. So it appears that the entire re-branding effort is an attempt to not become comfortable and fall behind in a world where Samsung, Texas Instruments, and AMD are pulling up their sleeves and getting down to business. Anyways, I know this is a little off subject but it's just my 2 cents.
Sincerely,
The Closet Entrepreneur
» This entry was filed under General