I initially came across iBegin on digg where it was receiving a good amount of praise by the normally critical digg community. There was a fair share of negative comments alluding to the superiority of Google and other established local search sites, yet I came away thinking that this was definitely something to keep my eye on.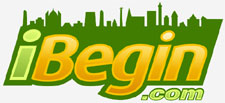 iBegin's creator, Ahmed Farooq, has been chronicling the history of the site on his blog, and I really think he's got something special going. Like many of the popular 'user-driven' sites out on the web, iBegin relies solely on word of mouth and user participation to generate local business and event content. And by 'user-driven', I mean that users not only submit content, but they regulate, screen, and correct it. The site also incorporates tagging, and utilizes a 'User Rank' (similar to Google's Page Rank) which quantifies the value of a user's suggestions, comments, reviews, et cetera.
I really like how much attention to detail has gone into the backend and inner workings of the site. Ahmed's blog has quite a few posts dedicated to his attempts to create a solid and fast search algorithm, and all the work that has gone into ensuring that the pages load quickly. In addition, he's integrated Ajax into various parts of the site to allow instant content manipulation and updates. As far as aesthetics are concerned, the interface and layout is good and it's definitely more pleasing to the eye than my beloved Craigslist and other local search sites like Yelp and Open List.
So will it succeed? Well I certainly hope so; I'm rooting for the guy because I really think he has a good thing going. I think the major competition is Google Local; then again I really think that a large amount of dedicated users can nail more local level restaurants, venues, and events better than Google Local can. Ultimately though, the success of the site will depend on mass participation and lots of word of mouth, especially if the site hopes to make inroads into the US and abroad (the site currently only focuses on Toronto).
Ahmed and I played email tag and unfortunately plans fell through for an interview on the Closet Entrepreneur – he just started traveling and will be away for a few weeks. I'm hoping to be able to get a hold of him once he gets back into town, until then I suggest you check out the site and his blog whenever you get a chance; the iBegin philosophy is especially interesting and refreshing.
Sincerely,
The Closet Entrepreneur
» This entry was filed under Case Studies and tagged with: ibegin, startup