Last week I noticed an unfamiliar truck parked across the street. Two teenage boys had just stepped out and were in the process of strapping on some rollerblades and messenger bags. Just then I realized that there would soon be junk ads hanging on my front door telling me about some refinancing opportunities or a maid service. Sure enough, later on that day I was greeted by a plastic bag with advertisements for a carpet cleaning company and a real estate husband and wife team from Keller Williams Realty. I even found a bonus business card from Al's Landscaping lying on my welcome mat; an actual lawnmower or rake would've been more useful.
I know advertising is essential to the success of a small business, but what I can't understand is why leaving trash on someone's door or car window is still around? I haven't personally looked into it, but hasn't someone figured out that the antiquated process of leaving mass produced Microsoft WordArt printed on colored paper is a nuisance and utterly useless? Maybe this works for a lost dog or a yard sale, but when does a business conclude that junk mail is a genius way to advertise? They might as well save themselves some time and money and print their ads on toilet paper because then it actually would be useful.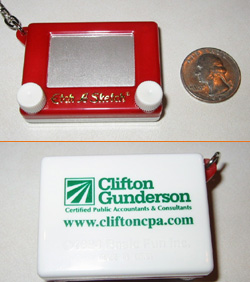 If these businesses really want to get my attention, then use some creativity for goodness sake. Take an example from the people over at Clifton Gunderson and give me something that will really make me smile. These CPAs actually use miniature and fully functional Etch A Sketch key chains to promote their company, and I really like the fact that they were creative enough to hand out something that is totally unique and fun. And although a keychain will not automatically win me over, it's enough to get my attention and actually look into their company if I were to ever need a CPA.
So to Al's Landscaping, the husband and wife team from Keller Williams, and the hundreds of other businesses that have made an effort to win my patronage with junk advertisements, I ask you to show me that you actually sat down and thought about your potential customers and what they might value. So far, you've only appealed to my paper recycling side.
Sincerely,
The Closet Entrepreneur
» This entry was filed under General