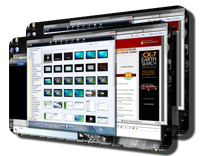 I've been catching a few of the Vista previews as they show up on CNET and Digg and I must say that I'm a little disappointed by the next generation release coming out of Redmond, WA. Albeit that it's still a little early to discount the new OS, but so far there's plenty of eye candy – yet nothing truly innovative or new that I can find. Although I will say that the revamped and tweaked Start menu has some welcomed performance enhancements, and the ability to diagnose your hardware and locate performance bottlenecks is nice. Yet I still can't get over the fact that most of these features can already be incorporated into Windows XP through various applications, and then there's the feeling that Vista will only "catch up" to Apple's current OS X.
I'm getting this strange feeling like I was hoping that Vista would be a little more OS X (& Front Row) and a little less Windows XP. Well, at least I can look forward to the next generation of M$ Office.
Maybe I'm being a little too critical, but is anyone out there really impressed by Vista?
Sincerely,
The Closet Entrepreneur
» This entry was filed under General