I had the chance to use Gliffy yesterday and found it to be a nice alternative to Microsoft Visio. The web app allows you to create various diagrams including flowcharts, floor plans, and even wireframes for website mock-ups. You can share and collaborate with other Gliffy users, publish your diagrams to the web, and export them in jpg, png, or svg (scalable vector graphic) format. And by the way, did I mention it was FREE?

I used Gliffy to create a flowchart of my hostile financial takeover of the world and was pleased by how intuitive and easy the application is to use (which is extremely important when you're planning a financial takeover of the world). There are two columns on the left and right hand side of the workspace that contain all symbols and their formatting properties. The top toolbar contains the text, drawing, and viewing options, and you have the option of reverting to previously saved versions of your diagram if you so desire.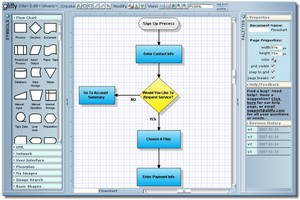 The only issue I had was with the color picker which uses a HEX color-value to distinguishing between available colors. In a perfect world this is not a problem since people see in color, yet colorblind suckers like myself sometimes find it difficult to distinguish between certain colors (yes I know – it's always about my needs). It would be nice if a color description was available, yet the app is too nice to pass up so I'll stick to shades of gray for now.
My Verdict: Definitely check out Gliffy if you're ever in need of a kick-butt diagram creating app!
Sincerely,
The Closet Entrepreneur
» This entry was filed under Tools and tagged with: diagrams, flowchart, visio