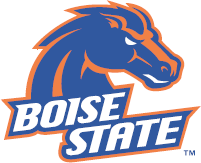 Undoubtedly by now, you've heard of the 2007 Tostitos Fiesta Bowl which featured a gunslinging Boise State take on Oklahoma, a college football juggernaut, in what has to be one of the best and most exciting games ever played.
Everyone and their mother made allusions to the epic battle between David and Goliath when describing the match up. Boise State was the team comprised of under appreciated athletes, some of whom had been passed on because they weren't big enough, talented enough, or strong enough to play on a true Division I-A college football team. And then you had Oklahoma, laden with enough talent, history, and trophies to warrant it's own dedicated special on the College Football History Channel (if such a network existed).
It's not the size of the dog in the fight, it's the size of the fight in the dog..
…proclaimed the announcers as Boise State outplayed Oklahoma on the field. And in a dazzling display of bravado and creativity, youngsters and elders alike were treated to some classic (read old school) playground football plays known as the Hook and Lateral (a.k.a. the hook and ladder) and the Statue of Liberty. My only wish is that a flea flicker would've been used at some point in the game.
What makes this win remarkable is the fact that an entire college football nation didn't believe that a win was plausible (except for Boise State fans and those rooting for the underdog). They were written off by Oklahoma fans and college football experts alike; they were true underdogs in every sense of the word. In the end, Boise State stood head and shoulders above the rest. Oklahoma and it's storied college football legacy was out hustled, outplayed, and outsmarted by a team from Boise, Idaho whose athletes were forged together by great coaching, discipline, and a belief that it's not brute size, force, or talent that counts, but the size of your heart that truly matters.
I was one lucky soul who had the privilege of watching this instant classic play itself out on live TV. In the end, this wasn't just a win for the little guy, the disenfranchised, the forgotten; it was a win for anyone and everyone who has ever been told that they just weren't good enough to compete and was able to overcome the odds through creativity and resourcefulness. Thank you Boise State, you've reminded us all just what is possible when you're persistent, resourceful, and dedicated enough to never take "No!" for an answer.
This isn't just a lesson that can be applied to business success, it's a lesson that is played out in life everyday by individuals who have the heart and passion to make their dreams a reality.
So what are you waiting for? Go out there and make it happen! 🙂
Sincerely,
The Closet Entrepreneur
Post Scriptum: You can catch video highlights of the 4th Quarter and Overtime HERE.
» This entry was filed under General