You can use any word-processor to create your business plan, yet the urban sprawl of text that results after your second or third page is enough to render the plan useless. Your business plan is supposed to be a tool that effortlessly tracks the tasks and details of your business, yet word-processors create page after page of static text which makes accessing, organizing, and updating the different sections of your business plan slow and cumbersome. Of course you could always add bookmarks, hyperlinks, and a table of contents to access the sections, yet even these items require extra work.
Finding A Better Solution
The first thing that can make your business plan more useful is separating the various sections by tabs. For example, you can create a separate tab for your vision, branding, to-dos, advertising, financials, et cetera. This way, instead of digging through several pages to find the section you're looking for, you simply click that section's tab.
The second thing that can make your plan more useful is the ability to prioritize specific items and reorganize sections on a page – in essence, the ability to create your own to-do and task lists.
Last but not least, being able to collaborate with business partners is a bonus as well as being able to send a Word or PDF version to a VC, Angel Investor, or Bank.
By the way, fans of GTD are probably already using something that does all these things so please feel free to share any recommended apps in the comments!
Five Applications That Will Make Your Business Plan More Useful
Taking the aforementioned wish list into account, here's a list of readily available applications that make your business plan more useful.
Microsoft OneNote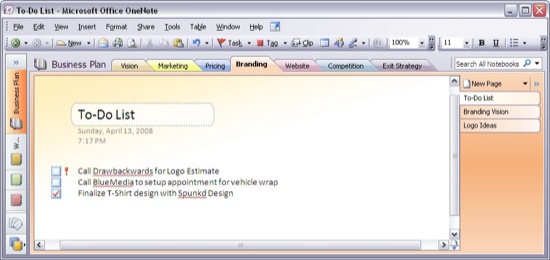 PROS: The latest version of Microsoft OneNote has just about every feature but the kitchen sink. For starters, it features arrangeable tabs, arrangeable and collapsable sections, arrangeable pages within tabs (basically tabs within tabs), image and text search, to-do lists, tables, export to PDF and Word, collaboration with other OneNote users, and generous Office and Outlook integration. The software is overkill if all you want to do is create and manage a simple business plan, yet it costs less than $100 and has all the bells and whistles you'll ever need.
CONS:One drawback is that OneNote is Windows only. In addition, attaching an Excel file is possible, but directly inserting a chart isn't an option unless you copy and paste a screen capture. Also, OneNote 2003 users will need to convert their documents to the new OneNote 2007 format if they plan on upgrading.
Microsoft Word for Mac (using Notebook Layout View)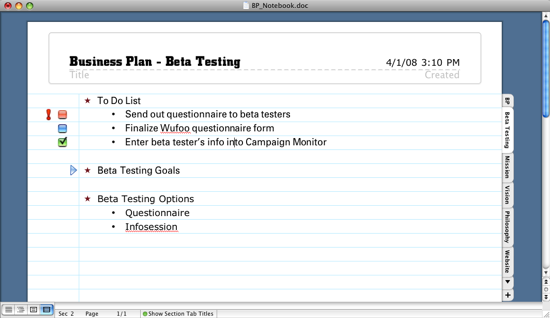 PROS: Microsoft Word for Mac becomes a OneNote equivalent when switched to Notebook Layout View. The features in Word for Mac are not as extensive as OneNote's, yet it's perfect for managing a simple business plan and the latest version integrates nicely with Entourage. As with OneNote, you get arrangeable tabs, arrangeable and collapsable sections, to-do lists, and Word and PDF exporting. Additionally since this is Word, you can insert Excel charts and tables or anything Word normally allows.
CONS: Although the generated doc files are compatible with other PC and Mac Word versions, the notebook layout view is only available on the Mac version of Word. Also, the cost for the software ranges from $149 to $400 depending on the version.
37singals' Backpack

PROS: Backpack is a free online organizing tool that includes pages (tabs), notes (sections), to-do lists, calendars, email reminders, and text message reminders. In addition, you can share and collaborate with others via your own personal intranet. Also, since the app resides online and not on your computer, it's operating system and computer independent.
CONS: Exporting your pages to XML format is available, but PDF and Word conversion isn't as direct as the aforementioned apps. Also, you get five pages free but have to upgrade to a paid account to add more pages and enable some of the shared features. And since it's a web based app, there's the possibility of not having an internet connection available (which is becoming less of an issue in this day and age of free Wi-Fi and broadband access cards for laptops).
Google Notebook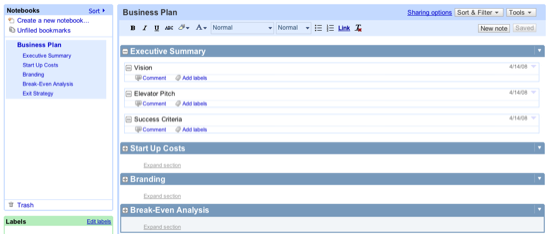 PROS: Google Notebook is another free online organizing tool that features notebooks (tabs), collapsable notes, collapsable sections, HTML and Google Docs exporting, Google search, and notebook sharing. You also get the OS and computer independence of web based apps. Google Notebook may not be as feature rich as some of the other apps, but it can easily accommodate a simple business plan while giving you the flexibility of creating to-do lists and collaborating with others.
CONS: Again, you run into the possibility of not having an internet connection available and in addition, charts and graphs can only be inserted as screen captures. Also, individuals who do not have a Gmail/Google account will need to create one to use the service.
PlanHQ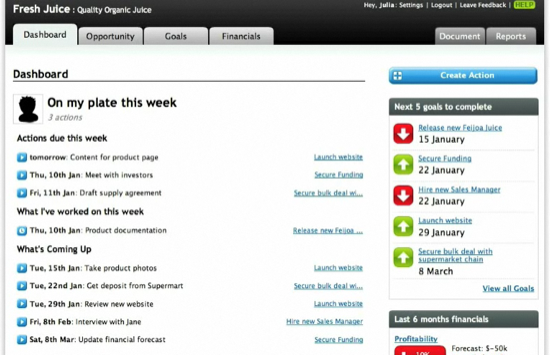 PROS: PlanHQ was designed from the ground up to be an online business planning tool. It incorporates a slew of useful planning and organizing features and includes separate sections for market opportunities, goals, team organization, and financials. The dashboard tab tracks and summarizes all goals, financials, and to-do items, and you can also collaborate with a number of business partners depending on the plan you choose. You also get a fully customizable Word, PDF, and OpenOffice export feature, and you get the OS and computer independence of an online app. In a nutshell, PlanHQ is the slimmed down web2.0 answer to Palo Alto's Business Plan Pro software.
CONS: As with the previous two apps, you're out of luck if an internet connection is unavailable. Also, the app comes with a 30 day free trial but you'll have to pay to keep using it; the plans range from $9 to $49 a month.
In Conclusion
A business plan should be useful and should not get in the way of starting and running your business; the same goes for the software you use to create your plan. And although each of these applications come with their own pros and cons, you should choose the one that best suits your needs. Regardless, each application is a readily available solution that should make your business plan more useful and easier to use.
Are you using an app that has made your business plan more useful, then feel free to discuss in the comments!
Sincerely,
The Closet Entrepreneur
» This entry was filed under Advice and tagged with: Advice, businessplan, software, Tools